In the Middle Ages, people honed skills in apprentice programs. I learned church music in two very different (some would say opposite) areas – classic and "other".
(I dislike the word contemporary when labeling musical styles. All music written recently is contemporary. All music was once "cutting edge".)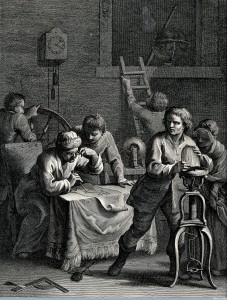 I've been leading choral reading sessions for a long time. In the last 5 or 6 years, I've noticed that after my sessions wrap up, a few people follow me into the hallway or lobby just to talk about what they face week after week. Some of them wonder how to deal with church leaders who want "something fresh" without sacrificing their church's traditional worship style on the altar of praise bands and jumbo-trons.
Via Media
So I decided to teach some of what I've learned. There is a Via Media – a middle way.
School and church musicians need each other. We must be willing to learn new ways of doing things, while at the same time sharing cherished traditions with newcomers. Our education must not stop at any graduation. We need a community that names its common challenges, faces them head-on and then together finds healthy ways to deal with them. We need a place where it is safe to yell, "I have no idea what to do!"
Here's what I bring to our table.
I can help you focus on the real issues behind dwindling numbers of choir members and occasional disagreements with church leadership. Then, together, we'll decide next steps.
Through trial and a lot of error, I've found ways to add more rooms to a traditional church music program's house – without busting your shrinking budget or splitting the house's foundation.
Today's children are the hope for tomorrow's choirs. I am with them everyday and have a hard-earned sense of what reaches them and what doesn't. (Hint – You don't reach them by lowering standards.)
MAKING MUSIC WORK is a three tiered paid membership academy.
Apprentice Level: A person who is learning the ropes of church or school music. ($52/yr)
Journey Level: A musician who has reached competence in the craft of making music, but who still has much to learn. ($260/yr)
Master Level: An experienced school or church musician who wants to expand areas of expertise and explore new and diverse musical styles. Those styles may be outside their experience or comfort zone. ($520/yr)
Embrace hope, all ye who enter here.