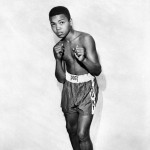 I am not a boxing fan. In fact, I abhor boxing. When I was 5 or 6 years old, I wandered into a boxing gym in Lubbock, TX and it scared me to death. Half a century later, I still remember it.
That being said, I respect the dedication required of those who practice it.
This picture is Muhammad Ali at age 12.
Was this scrawny kid destined to become who he became?
I don't think so.
At this age, the age of many of my students, his world was full of possibilities. Granted, his circumstances dictated that those possibilities were unfairly limited by race and socioeconomic barriers, but still, he had options.
Process
When Ali was 12, in his hometown of Louisville KY, someone stole his bike. He wanted it back and he wanted revenge.
He found Joe Martin, a policeman, who advised that before he started his quest, he should prepare himself for battle, both physically and mentally, by joining a gym. Martin led Ali (then known as Cassius Clay) to Columbia Gym.
Thus began a process. Year in and year out, through intense struggles and much pain, this child devoted himself to a process that resulted in Muhammad Ali.
Character
A kernel of character grew into a driving force. It grew because Ali let it – willed it to grow.
That kernel is in you and me.
So why don't we all achieve the same monumental results?
(Note: I'm not talking about fame or financial wealth.)
Premiere results only come through process.
We want to be first to the finish line without running the race.
We want to succeed without failing.
Ali learned that success demands failure.
Process is the rudder
Process steers us. Without it, we drift aimlessly, going wherever life's current takes us.
Process is hard, not always fun. Sometimes it is excruciating. But it can be joyful, too, if we let it.
Process endures despite erratic emotions.
Disciplined dedication to process – day in and day out – allows the kernel of our character to blossom.
Character driven process transformed a 12 year old petty theft victim into a Mohammed Ali who changed the world.
What would it do for and to you?
Dare to find out.