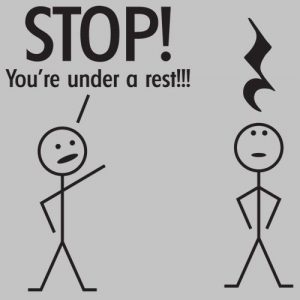 Look deep into your past Luke (or Leia) Scalewalker.
Remember when you were young and music was never not fun?
Then came lessons and practice time and endless scales and the [cue Beethoven's 5th … (ta ta tad dum) — classical radio announcer's voice-over, dramatically]

STUDY OF MUSIC.
Whether you're leading a choir in church or in school remember:
BE FUN OR BE DONE!
In the case of school, students can be forced to attend. They cannot be forced to like it.
Teaching enjoyment is part of our job.
Somewhere along the line music became totally IMPORTANT. The pursuit of perfection can become an obsession bordering on addiction.
People who know me, know that I take my profession very seriously. I try to practice daily. I don't always succeed, but most days I manage at least 30 minutes.
I study scores, research composers and wonder "what if" and "why".
I enjoy practice more than performance. It's fun.
BUTT
Most people aren't me (thanks be to GOD).
In church, most musicians are amateur volunteers. They wander the wonderland of lines and spaces and dots and dynamics for enrichment and release and – for fun. Hopefully they enjoy the people they meet in the process, even if they're lost half the time.
If it ain't fun, you're done."
With students, if music is an experience not unlike than jogging uphill with an infected in-grown big toenail, you're toast.
With volunteer choirs, music without some fun = silence.
This week, whether you're rehearsing or teaching, make the experience at least 57% fun.
It's up to ewe.
PS: Sign up for  THE WEEKLY WORD. It's free, it's useful information, and it's occasionally FUN. You won't regret it … and if you do, unsubscribe is only a click away.