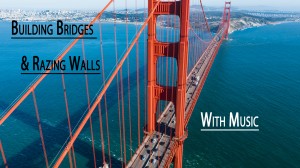 These are not the ONLY ones, but they help guide what I do.
I use them as a measuring stick.
Did my actions today help or hinder the goal I set for myself 4 years ago?
WE NEED MAPS & GUIDES
Whether it's the 10 commandments or the laws of Islam or 12 steps from a program, maps and boundaries help us get where we're going.
When I was barely old enough, I "helped" my grandfather plow his large garden.
"Don't watch your feet. Keep your head up and lock your eyes on a fixed point at the end of your row. That's the only way to plow straight."
Some of the best advice I ever got.
BRIDGES & WALLS
The former brings people together and gets them safely from point A to point B.
The latter's sole purpose  is to divide.
I learned a long time ago, that music can serve as a bridge to help people understand differences and open up to other ways of thinking and living.
Music can also help tear down walls we put up; the ones meant to hurt and exclude.
WHAT'S GUIDES YOU?
Something does. How's it working for you?
Are you better off for the fixed point you use to guide you?
TAKE YOUR TIME.
Today's all we've got. One way or the other, our maps get us all to the same destination.
The question is how you spend your travel time.